On my worst day, God is more gracious to me than I deserve and I have more blessings than time to count them. Today was a good day - my brother Richard's birthday.
As is our family tradition, Richard picked the venue where he, my son Chris and I dined. He chose
Old World
in Huntington Beach, a German restaurant in a faux village of apartments, shops and other businesses that is best known for its annual Oktoberfest celebrations. Our maternal grandparents were German chefs and we grew up on recipes from their homeland.
Grandma Rosina was the oldest of 11 children from an impoverished Munich family. She boarded a ship for New York in her teens when she was sponsored by a German-American couple to be their cook and governess - and she never returned. She was the toughest person I have ever known, but she spoiled me rotten - buying me a piano and paying for my lessons. As an 8-year-old tomboy, I infinitely preferred the great outdoors. One day I balked at my daily keyboard practice, on top of rigorous dance lessons. With silent haste, Grandma packed a suitcase, called a taxi and made a grand show of moving out until I was compelled to offer an apology and very specific promises.
I never knew our Grandpa William (né Wilhelm) who died 9 months before I was born. Apparently, whatever birth control that worked for nearly 8 years after my brother Bob was born was forgotten in the fullness of grief. Grandpa was a highly successful chef, no doubt with enormous help from his sous chef, Grandma. Together they established a family-run restaurant that catered to the German community in 1920s New York, plus a store and assorted real estate enterprises. For a short time he owned a Gutenberg Bible, which was stolen after he displayed it in the foyer of their large home. He was also a playwright who produced German musicals and an alcoholic whose sense of shame led him to briefly abandon his family after all the businesses failed during the Great Depression. After Hitler rose to power, Grandpa received a letter from the German government asking him to come home and help the cause. My mother and two uncles vetoed the move.
At dinner tonight, we were the only party in the restaurant. Our waitress was warmly friendly and talkative. We discussed her German heritage and ours, how Richard became deaf and disabled, our shared appreciation of Ronald Reagan and concern about President Obama, and anything else that caught our interest. She brought Richard a complimentary slice of Black Forest torte with a candle. My son Chris, our lovely waitress and I serenaded Richard as I signed the Happy Birthday song for his benefit. Before we left, there were lots of photos and hugs all around. It was a special experience. Here is a picture of the birthday boy and your humble blogger at dinner. Chris prefers not to have his photo published.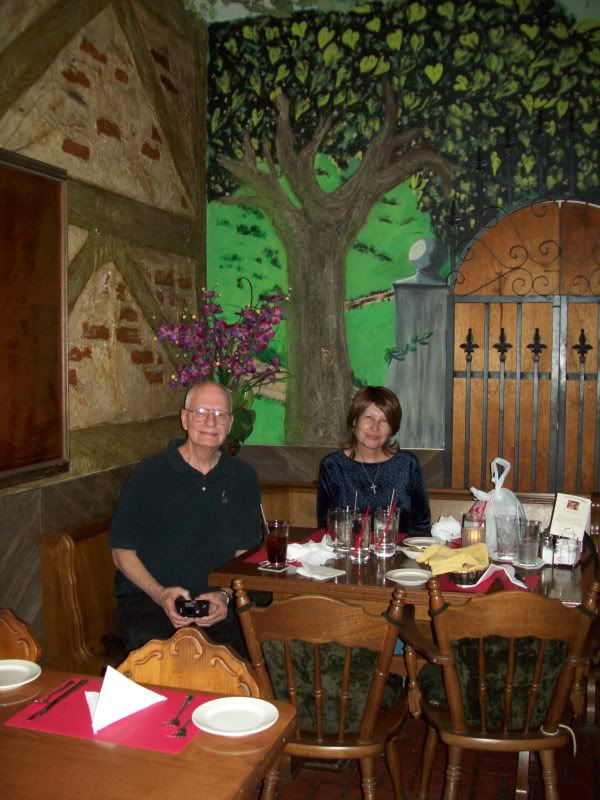 Richard and I have different fathers and his sire was a raging alcoholic. The marriage was doomed after Richard's dad, whose family was comfortably well off, forced our mother to give birth in a charity teaching hospital. The attending doctor, a student really, used forceps to deliver Richard, thus damaging his brain and killing his auditory nerves - rendering him deaf and disabled at birth. Shortly thereafter, Mom hit Richard's father over the head with a frying pan and fled.
Richard came to live with Luis, Chris and me in 2003 after our sister Donna died unexpectedly. Although he is 16 years my elder, we were always very close. From the time he moved in with us, Richard rebelled against Luis's numerous rules. Like Richard, Luis and my son Chris are also children of alcoholics, so we kept almost no drinkable alcohol in the house except for mouthwash and vanilla extract. Richard was also 75 lbs. overweight. We put him on a series of diets that worked at least temporarily and Luis would weigh him randomly and, in retrospect, not very respectfully.
I believe that he had Richard's best interests at heart for the most part, but Luis can be a controlling tyrant who disdains subtlety and tact. There were several confrontations and Richard, who can become frustrated but has mastered his temper considerably, even head-butted Luis once. Richard also used to mime the moves of a prisoner, acting like Luis was handcuffing and even hanging him. Luis, Chris and I would laugh about it, but it always made me uneasy. Richard's objections were not unfounded and I am sorry I gave Luis so much leeway over him, over Chris, and in numerous other ways. Since Luis left, Richard has been visibly relaxed - very relaxed - and much happier. Chris is blossoming, too.
Tonight I let Richard slowly enjoy one glass of dark German beer with his entree after he already had Diet Coke, bread and a salad. I made it clear that this was an exception tied to a rare occasion. I monitor how much money Richard carries and where he goes, so it would be practically impossible for him to go on a bender.
This was our first outing as a new threesome. During his Christian phase, Luis never let us listen to secular music as a family. Although these days I truly prefer Christian Contemporary radio, music in all its ear-tickling glory has been an essential ingredient in my life since before Grandma forced me to play the piano. Chris is a fan of the classic hard rock from my youth, so I tuned into his favorite FM channel. Together we sang along raucously with the Doors, AC/DC and Foreigner. Our only regret was that Richard could not join in, but he never complains about his deafness and certainly doesn't think of himself as handicapped or different.
God gave us a world seeded with small wonders and life affirming joys. Listening to the lovely Katie Melua duet across time with the late, lamented Eva Cassidy, I can almost forget its vast wickedness.
Previous stops:
Pick Yourself Up
by Fred Astaire and Ginger Rogers (1936).
Special
by Garbage (1998).
The Whole of the Moon
by the Waterboys (1985).
Empty Me
by Chris Sligh (2008).
So Long Self
by Mercy Me (2006).
Here's Where the Story Ends
by the Sundays (1990).
Broken
by Lighthouse (2009).
God Shaped Hole
by Plumb (1999).
The Thrill Is Gone
by B.B. King (1970).
Love and Regret
by Deacon Blue (1989).
Real Gone Kid
by Deacon Blue (1989).
My Book
by the Beautiful South (1990).
A Little Time
by the Beautiful South (1990).
Your Ex-Lover Is Dead
by Stars (2005).
This Woman's Work
by Kate Bush (1989).
Love Will Tear Us Apart
by Joy Division (1980).
Reptile
by the Church (1988).
Accidents Will Happen
by Elvis Costello (1979).
Tears Run Rings
by Marc Almond (1987).
Killing Moon
by Echo and the Bunnymen (1984).
Love Lies Bleeding
by Elton John (1973).
Last Time Forever
by Squeeze (1985).
Conjure Me
by the Afghan Whigs (1992).
Debonair
by the Afghan Whigs (1993).
Hallelujah
by Jason Castro (2009).
Total Recall
by the Sound (1985).
Fly
by Jars of Clay (2002).
Train in Vain
by the Clash (1980).
It's My Life
by Talk Talk (1984).