Today my brother Richard and I ventured into Los Angeles County to attend the rally featuring Sarah Palin in Carson, California – not exactly a hotbed of conservatism. From our home in central Orange County, the trip took 30 minutes on the freeway, followed by 1 hour 30 minutes to drive 2 miles on the street carrying thousands of us to the Home Depot Center in Carson.
The rally was held in the tennis stadium, which was advertised as accommodating up to 15,000. Tonight the local NBC news estimates the crowd inside and outside the stadium at 20,000. The rally was supposed to start at 1:30pm, at which time we were still in a long line that wrapped halfway around the perimeter. Richard is deaf and we hoped there were still two seats left in the area reserved for the deaf. Alas, there was no ASL interpreter and no seats left to the general public period.
Ace
of the infamous Spades liveblogged
here
,
here
and
here
from the press tables in the nosebleed section, which aside from the press was SRO. We watched the rally standing between the press tables and I probably missed my only chance to meet the wickedly funny Ace. Anyway, 1) I don't have a clue about what he looks like, 2) I didn't have a concussion that suddenly turned me into an extrovert, and 3) I don't have anything to say to him except, "I enjoy your blog, but clean up your language, young man." So it's probably just as well.
But I'm getting ahead of myself.
The line into the stadium ran parallel to a small but vociferous crowd of protesters, separated from us by temporary barriers and event Security on one side and salesmen hawking McCain-Palin merchandise on the other. I was wearing silver marcasite cross earrings and my current favorite Christian-themed t-shirt (seen below in blue, whereas mine is gray).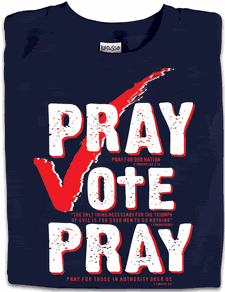 The McCain-Palin crowd in general was covered with patriotic apparel and accessories. However, my favorite shirt o' the day read "NOBAMA: Keep the Change."
Whenever I wear anything that identifies me as a Christian, I feel an even greater obligation to glorify God with my actions. To that end, I fully intended to smile benevolently at the nutroots wackos and hold my tongue. Really, I did.
But then they started singling me out for insults because of my shirt – and I suddenly remembered I brought my camera. I knew talking to them was pointless, but that didn't stop me.
At first I stayed in line, rebutting a JESUS WAS A COMMUNITY ORGANIZER sign from a shouting distance and advising another protester to fact-check her PALIN MADE VICTIMS PAY FOR RAPE KITS sign. When I turned the corner leading to the stadium entrance, I saw a long row of protesters bearing more signs and spouting slogans. I waved to them and said in passing, "You are all welcome here but, if this were an Obama rally, we wouldn't be welcome and we couldn't bring signs. Obama's the candidate with goon squads trying to stifle free speech, not McCain."
Some protesters were flat-out funny, unintentionally of course, like the woman wearing fuzzy leggings and dangling a stuffed animal who was protesting cruelty to polar bears. Then the woman holding the brown KEEP YOUR RELIGION OUT OF MY POLITICS sign called out to me, "Ma'am, ma'am, can I talk to you?" So I walked over while Richard kept our place in line. Brilliant idea, speaking truth to the truth-defying Obama goon squads who answered his call to "get in their [our] faces." He must be so proud.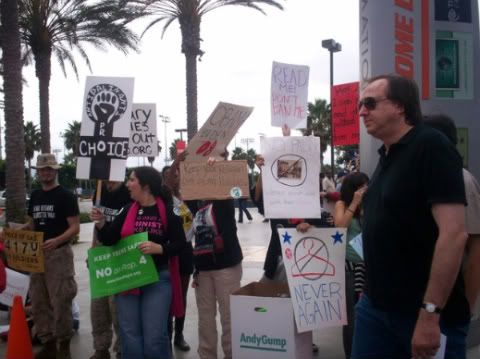 "Ma'am, do you believe in evolution?" she asked me.
"Define evolution," I countered.
"You know, Darwin's theory of evolution," she offered, a bit annoyed.
"That's one theory," I said. "I believe that God created the world and gave us life. You might think that my belief in God is just a theory. But there's a difference. My husband committed himself to Christ after we found out that my cancer was spreading through my body. Then a miracle happened, the cancer disappeared and I have been in remission for two years. Tell me how evolution could have done that."
Her polite veneer vanished. "Well," she snapped, "I have nothing to say to you."
The woman standing behind her holding the OBAMA BIDEN '08 sign pushed forward. "As a Christian," she asked, spitting out the word like it was poison, "you are against war, right?"
"Only a madman wants war," I replied, "and only a coward wants peace at any price."
"But what about the innocent people who die?" she snapped.
"We try to minimize casualties, but it's a terrible thing," I agreed, "especially when terrorists deliberately kill innocent people. What about the innocent people who died on 9/11?"
"Do you think we're better than they are?" she screamed. "That's racist!"
The woman in front holding the green NO ON PROP. 4 sign interrupted. "War isn't the answer. Didn't you learn anything from Vietnam?" she asked.
"Yes," I said. "Let the Generals and military experts run the war and let them try to win. And it's better to fight the war over there instead of here." The other woman called me a racist again.
You know that picture of Obama holding his head imperiously high? Green sign woman adopted that same holier-than-thou posture and said sneeringly, "There are no winners in war. Obama's going to use diplomacy."
By this time, I was looking for an exit strategy and wishing my husband Luis, who evangelizes almost every Saturday, had come to Carson to save some lost souls. "Diplomacy for despots? That didn't work so well for Neville Chamberlain, did it?" I asked rhetorically and pulled out my camera.
Immediately thereafter, we mutually agreed to ignore each other. This picture captures their end of the deal.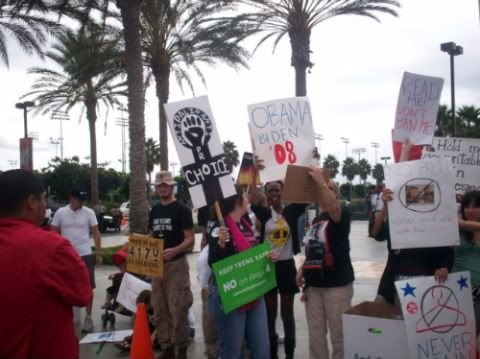 Meanwhile, a few crazies away Security had to restrain an angry protester in a blue hat and dark Obama shirt. I rushed over to photograph the fracas.
"Say 'Freaks'," I yelled cheerfully as I took this picture. That drew loud laughter from the McCain-Palin line behind me where many other normal Americans were mad as hell at the nutroots wackos and not going to take it quietly any more. The gentleman on the right holding the DOPEY GRUMPY sign obliged me with a good-natured smile.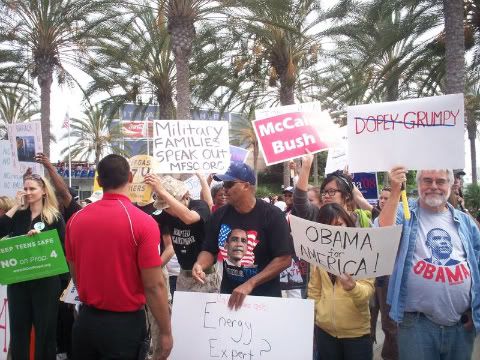 Here are pretty nutroots wackos all in a row.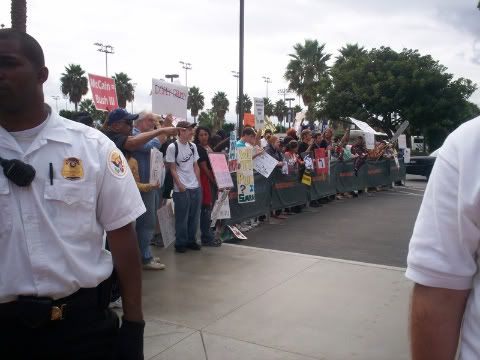 In case you were wondering, this is what nutroots wackos look like from the back.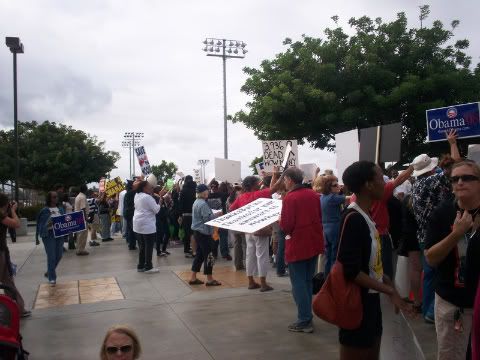 I missed the speech by Dana Rohrabacher, my Congressman. For the first time ever, he actually faces a serious opponent in his re-election bid. She is Debbie Cook, the Democrat mayor of Huntington Beach, aka Surf City USA. Cook is one of those anti-business, anti-drilling "progressives" who opposed both a Walmart and a desalination project in her town. She actually pushed the Walmart issue to a public ballot vote and lost. Vindictively, she was in the majority on the City Council that forced Walmart to pay for a completely unrelated railed sidewalk with handicap access half a mile away before they would let the store open.
Finally inside the stadium, we listened to the end of Jon Voight's speech as we jockeyed for a nearly bird's eye view of the stage. There were press tables to the left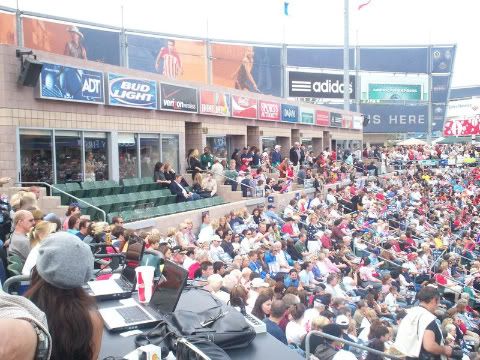 and to the right.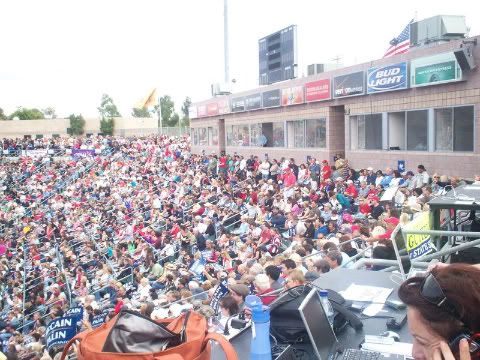 Ace, is that you?
The SoCal crowd was fairly, typically diverse. I tease my son, a college student, that when he and his friends get together, they sing
We Are the World
. I'm no proponent of a "big tent" party just for the sake of artificial demographic diversity. But this year it seems like a naturally occurring phenomenon – one that I welcome for however long it may last.
My conversations inside the stadium were a lot more polite and edifying than outside. I was encouraged to hear tales of traditionally Democratic voters – Hispanic and Asian Americans mostly – who support McCain-Palin, which reinforces my own firsthand experience.
Here are shots of the restive crowd, waiting for Sarah.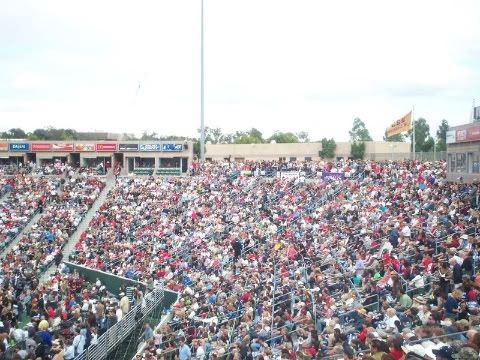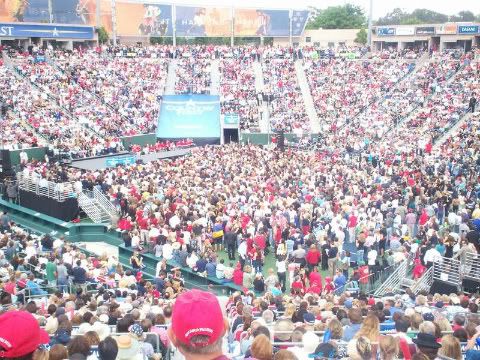 All eyes focused on the tunnel, waiting for Sarah.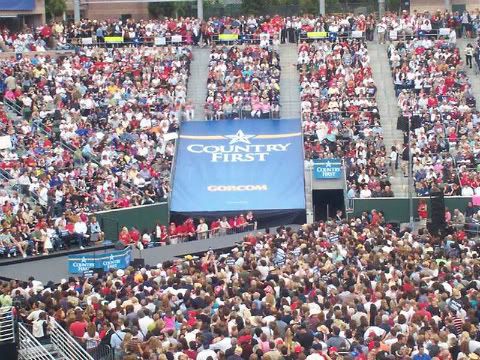 While we're waiting for the Governor, let's enjoy this classic near-hit by the woefully underappreciated Jellyfish,
Calling Sarah
.
Gosh, I hope I don't get a cease and desist letter.
Finally, here she is shortly before 3:00pm. "Sarah! Sarah!"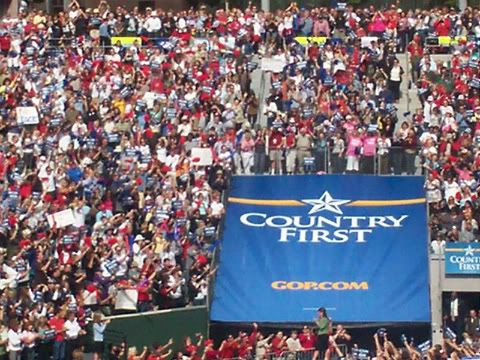 She's wearing a green jacket over a black skirt. The First Dude and Palin kids were absent. I missed Piper.
After an unexpected endorsement by the President of the Los Angeles chapter of NOW, Sarah spoke for close to 30 minutes.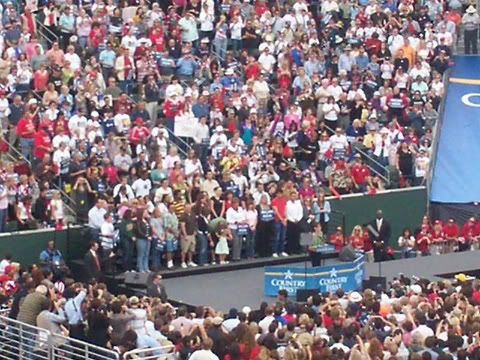 She's that green-and-black speck standing behind the blue Country First sign surrounding the podium.
For the first time publicly, Palin
mentioned
Obama's friend, domestic terrorist William Ayers, by way of a direct reference to today's
New York Times
article and a roundabout slap back at Katie Couric.
Her speech was occasionally interrupted by protesters who were gently escorted out of the stadium, including a 9/11 truther. Earlier I joked with my neighbors in the Standing Room Only section that they could probably find seats after the Code Pinkos were ejected. How predictable these nutroots wackos are.
After a spirited finale, Palin stayed to greet fans adjacent to the stage. Immediately, it began to rain, so most of the crowd dispersed. Inside and outside the stadium, McCain-Palin merchandise was still available at tables and booths but at higher prices as supplies grew scarce.
Most of the protesters had dispersed by rally's end. Here are the leftovers relegated to the sidelines as exiting traffic whizzed by.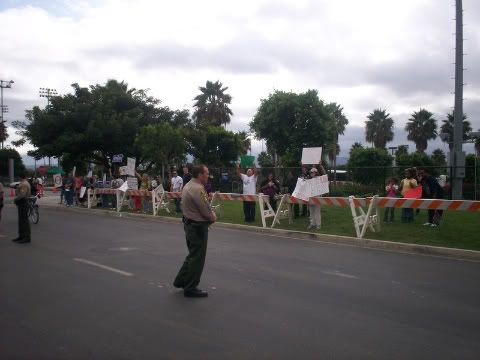 Why did the nutroots wackos cross the road?
Because Security got tired of them, too.
There was one traffic stopper.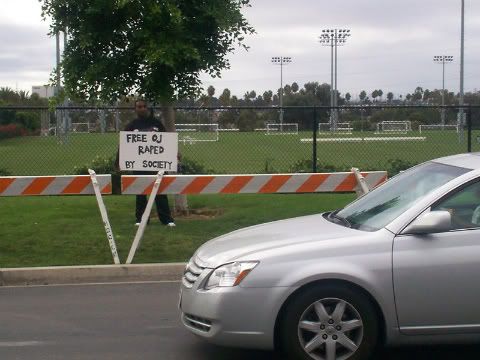 His sign reads FREE OJ RAPED BY SOCIETY.
One minute later, the same gentleman, same sign, different side.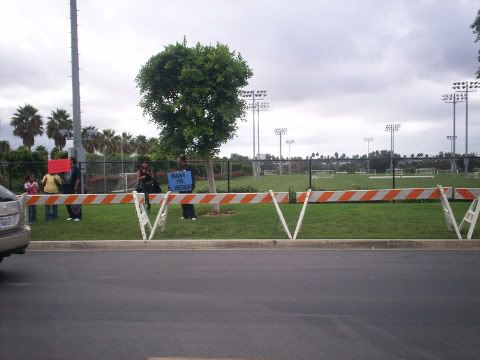 The back reads OBAMA FOR PRESIDENT.
Hmmm. Didn't OJ catch a flight to Chicago right after Nicole and Ron Goldman were murdered? You don't think ... Nah.
ETA: I forgot to post this photo.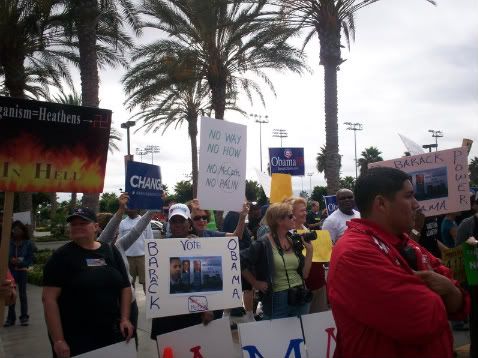 See the sign on the left? It reads CHRISTIANS = PAGANISM = HEATHENS --> SWASTIKA at the top and BURN IN HELL in the flames underneath. Welcome to the Democrat Party 2008. Here's your sign.