The Iraqi people voted this weekend on a constitutional framework for their democracy - their second electoral opportunity in an historic year. The turnout, which was met with an insignificant number of terrorist disruptions, is reportedly more widespread among the entire population and all eighteen provinces.
Here is one happy Iraqi who voted twice.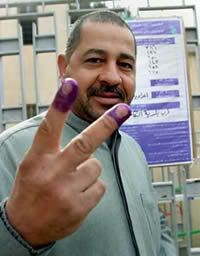 Voter fraud, you ask? No!
He voted once for the Iraqi charter and once for
Kiihnworld
in the
Crosley Solo Blog of the Week
contest at
Radio Blogger
.
Have you voted yet for Theresa Kiihn's excellent post,
Trust
?
Do you have insurgents threatening to shut off your electricity?
Well, then, what are you waiting for? Voting closes at 12:00 noon Pacific Time on Monday, October 17, 2005.