Last year our Halloween traffic was so light that my husband Luis, dressed as Dracula, handed out two or three pieces of candy to each trick-or-treater. Then suddenly it was rush hour and I had to scurry down to the supermarket for reinforcements.
This year I bought enough candy to fill
Nancy Pelosi's
cauldron and we have about one-third left. My son Chris will be eating most of the leftovers and his tastes have changed somewhat now that he is 22. According to his guidelines revised for 2005, old favorites like Skittles and Snickers could be given away first while reserving new favorites like white chocolate Peanut Butter Cups and white chocolate Kit Kats. The preteen boys who sauntered half-embarrassed to the door dropped their sneers and exclaimed, "Skittles! Cool." Ah, yes, I remember it well.
Chris is obsessed with all things Japanese, so he would have preferred that I had picked a peck of Pocky instead.

Yeah, all the Skittles gangstas would have loved that. Pocky.
My favorite aspects of most holidays are decorating and food, not necessarily in that order. Tonight Chris took some pictures of our house with our rudimentary digital camera and tried his best to doctor them, but they are still blurry. This is the front of the house adorned with purplish orange lights.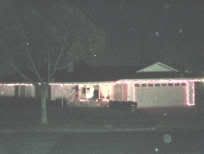 This closeup of the porch shows an abundance of spider webs on the low hedges and a hanging lighted web. Hidden behind the bushes is the fog machine Chris always wanted.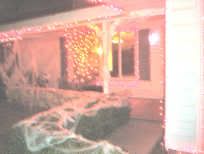 Here you can see the giant spider on the left side of the porch. The blurry lights in the middle are from a candelabra and a flashing lighted skeleton skull.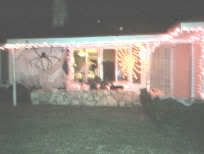 The weather was unseasonably hot and I was under the weather, feeling not so hot. So our family Halloween party menu of mostly orange and black food was abbreviated: chile con queso, black bean dip, bluish-black corn tortilla chips, salmon roll with miniature toast, homemade chili with cornbread, pumpkin and pecan pies. Last year I made a pumpkin souffle and an extravagant buffet. I cook for three men, so leftovers never get a chance to go bad.
This year Dracula sat at his computer, playing World of Warcraft and trying to cool down. Even at 7:00pm, it was too warm for Chris to don his glowing-eyed zombie costume. Only my brother Richard got into the spirit of the celebration.
Richard is deaf and has learning disabilities, but he reads print and online materials voraciously. Fine details often escape him and I never know how much he really understands. He has always lived with immediate family and we are a politically conscious family. Some of that obviously has influenced him.
This Halloween he wanted a costume flexible enough to wear to his deaf bowling league party, so off we went to Party City, population everybody and his mother. He selected a mask to complete the ensemble, which he models below.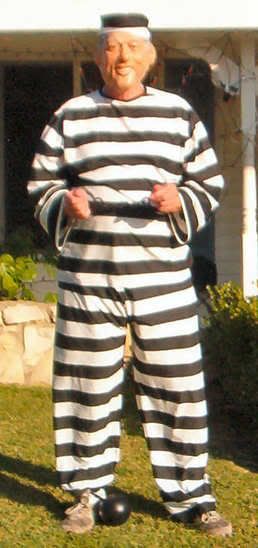 I swear he picked it out all by himself.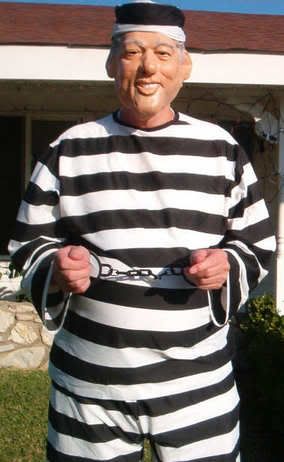 Here he is clutching his heart.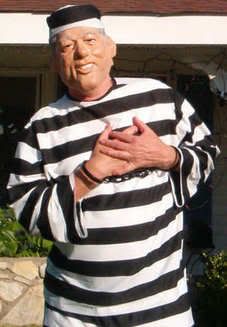 Apparently he understood the news reports about President Clinton's cardiac trouble - and tacky, lowbrow humor is hereditary.
In character, Bubba, I mean Richard, flirted with all the mommies who came to our door with his legendary incorrigible charm.
How incorrigible? Even his portrait can't help himself when there's a pretty girl around.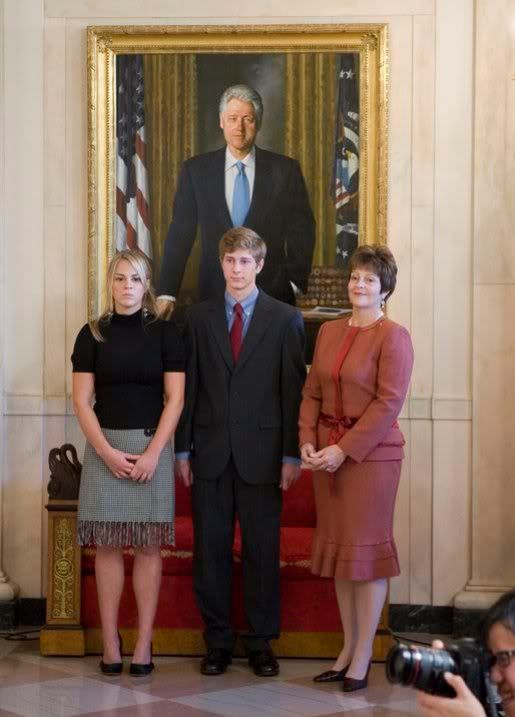 The Alito family, from left to right: Laura, Philip and Martha (courtesy of Bench Memos at National Review Online).