As Napoleon Dynamite Might Say
The President reached deep into his political bag o' tricks and delivered a Halloween treat that is not only pleasing to the conservative palate but nourishing and easy to digest.
Judge Samuel A. Alito, Jr.
is superbly qualified to serve on the Supreme Court.
Today's announcement was met by attacks from the left, not from the right. This morning the Democrat leadership team held an emergency strategy session (pictured below).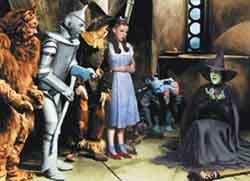 Nancy Pelosi
was heard to shriek, "I'm melting, I'm melting!"