Bucky Covington, singing Best I Ever Had, his high-water mark and one of my personal favorites from all five seasons of American Idol. I hope he gets to record this, the sooner, the better.
Luis and I had never heard the song before, but Bucky performed it with such simple honesty that the sad, haunting beauty caught us unprepared. We rushed out to buy Vertical Horizon's original and the Gary Allan cover, which inspired Bucky's interpretation.
We could tell this was no ordinary heartbreak song. See Gary Allan's website for more details. By the way, Bucky's is still our favorite version.
You can download Bucky's video and mp3
among other performance clips available at
Bucky Country
.
Bucky, singing his elimination song, Fat Bottomed Girls, and touching base with his close friend, Elliott Yamin.
Interviewed after the results show by Simon Cowell's girlfriend/reporter Terri Seymour, Paula Abdul described Bucky and Elliott as the most unpretentious and humble sweethearts.
Asked what he will miss the most about American Idol, Bucky replied, "Elliott Yamin. He was my best buddy through this whole thing."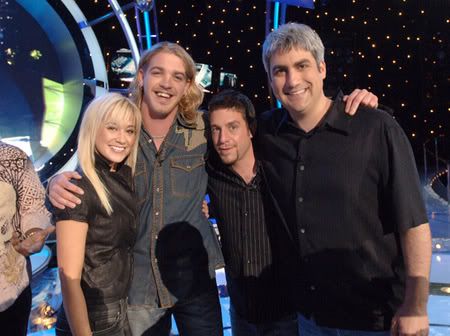 Bucky with his good friends, Elliott and Taylor Hicks, and the $5 pickle.
Middle and bottom photos courtesy of Gray Charles.