And Not a Small World, After All
The lasting legacy of Walt Disney is his timeless insight into the imagination of children coupled with a gift for awakening the child in the rest of us. His idealized vision of childhood and Americana still resonates with kids of all ages worldwide. This week marked the 50th anniversary of Disneyland, a marvelous invention – not just an amusement park but a
theme park
– that revolutionized the art of entertainment just as Walt's innovative contributions to film did decades earlier.
As a southern California baby boomer, I grew up taking the genius of Walt Disney for granted. Disneyland defined our landscape – like the ocean, the Santa Ana winds, the freeways - and became a cultural reference point even for those who have never visited. Too often I have heard that Las Vegas is the Disneyland for adults, but that may be the worst analogy of all. Las Vegas is a busy, eye-catching façade built on unrepentant corruption and vice. Disneyland is a storybook dream come true that respects the innocence of children.
Although I was not alive for the opening, I have been blessed to live always within easy driving distance of Disneyland and its cross-county rival, Knott's Berry Farm. Shortly before my 8th birthday, we moved to the town that became our family headquarters for the next 25 years, located just five miles from Disneyland. As the youngest child by far of middle-aged parents who had long since expended all their interest in kid-centered activities, we went too infrequently during my early years to satisfy my appetite for fun.
Every summer evening my childhood chums and I could see and hear its aerial fireworks display right before bedtime, ensuring vivid dreams of cartoon characters and impatient demands to go to
Dizzyland
. Inside the park, the pyrotechnics were preceded by Tinker Bell's flight across Fantasyland and climaxed with a musical grand finale. Outside the fireworks were a powerful advertisement imprinted on the consciousness of all who wished upon the colorful stars.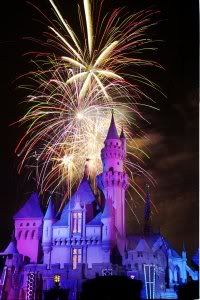 My fondest memory from Disneyland's first decade was of the Flying Saucers, which didn't fly as much as they bounced like a bumper car. I think there was a height or weight requirement to ride solo and the saucers were gone before I qualified.
To reflect the rapid developments of the space age, the Rocket to the Moon was reborn as the Flight to the Moon during the Apollo phase of NASA. Your seats would inflate and deflate to simulate blastoff and re-entry.
Walt Disney had a forward-looking World's Fair sensibility that was most evident in the original phases of Tomorrowland and still lives on at EPCOT in Walt Disney World. The Carousel of Progress was a cool refuge on sweaty, crowded days and free with park admission. Once settled into the theatre seats, the audience was rotated around a stage in increments, stopping long enough to view each scene depicting a typical American home through a series of 20th century improvements. Like most Disney music, the Carousel's theme song became a classic:
There's a great big beautiful tomorrow, shining at the start of every day
.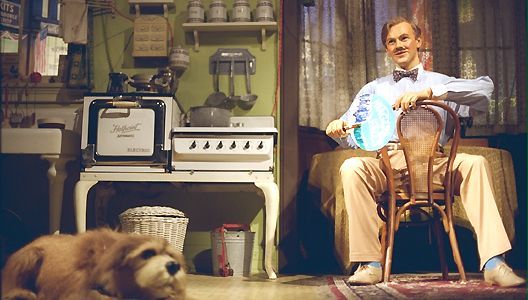 At the opposite end of Tomorrowland sat the ultra-modern House of the Future, Walt Disney's architectural prediction that never materialized.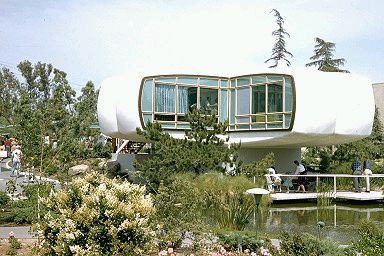 Until 1982 most attractions required lettered tickets from A for the least popular through E for the most desirable. On a normal one-day visit, invariably you would quickly run out of E tickets and take home unused A and B tickets. If you had a Magic Kingdom Club Card, offered by many employers in Orange County as a standard perk, you could purchase a book of Magic Key tickets, which were good on any ride. In the post-ticket era the Disney club card offered significant savings on increasingly prohibitive, all-inclusive prices for daily passports, multi-visit passports and the locally popular annual passports. The employee club card was discontinued in the late 1990s.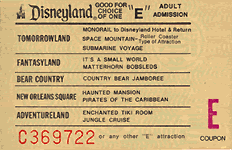 The year I turned ten, my folks' best friends moved into our area along with their bossy, bratty daughter M. Sometimes our moms would take us to Disneyland and leave us mostly to our own devices between meals. M liked to ride the Skyway to Tomorrowland, now relegated to yesterday, and spit ice at the pedestrians below.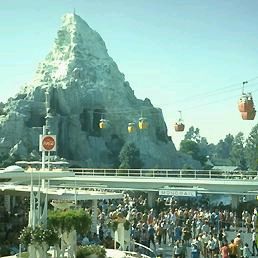 Or she would break silent but deadly wind on the Submarine Voyage, another sunken treasure of the past.

The Autopia had two side-by-side, overlapping locations in Fantasyland (now closed) and Tomorrowland. Autopia simulates a race track and, except for the guide rail that keeps you centered within your own lane, you can pretend you are a real driver at any age – that is, if you meet the height requirement. Practically everyone tailgated and rammed the car ahead, but not I, the quintessential goody goody. So M would insist on following me just to push me into other cars.
M had some redeeming qualities. She loved her own horse and was always kind to animals. I recall riding on the pack mules over and over, which I thought was a dreadful waste of precious E tickets.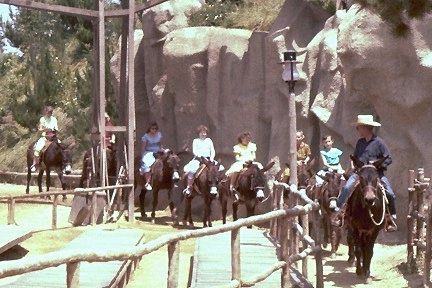 That attraction disappeared from Adventureland in the 1970s to make room for Big Thunder Mountain Railroad.

I entered middle school at age 11 where I established healthier friendships, some that still endure. Finally we were old enough to attend amusement parks without parental supervision, although I recall fondly a rainy summer's day at Disneyland with D and her mother, who is still a delightful companion at age 92. Disneyland became a familiar haunt but remained such a special experience that I would lose sleep in anticipation. It was and, I believe, still is a safe place for teenagers and pre-teens to socialize.
During this period two new attractions were introduced, the last reputedly to be Imagineered by Walt: the Pirates of the Caribbean and the Haunted Mansion. Don't judge these rides by the movies they inspired. For a decade or so, they were two of the hottest E tickets around. Pirates is a boat ride featuring two splash-inducing drops that were a novel thrill before the advent of water parks in the 1980s. Overlooking the darkened waters of the Disney-fied Caribbean is the park's finest, most in-demand restaurant, the Blue Bayou.
The special effects of the Haunted Mansion are still impressive, especially the holographic ghosts that hitch a ride on your doom buggy, but only moderately spooky.
The most frightening rides were found in the area created for younger children, Fantasyland. On Mr. Toad's Wild Ride, you collided with a train and then suddenly you were in hell.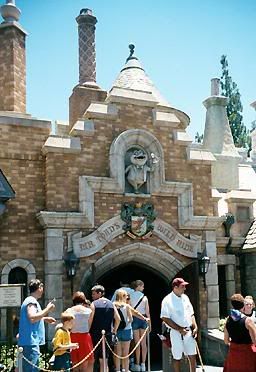 Seriously!
Snow White's Adventures was so scary that they printed a warning on C tickets.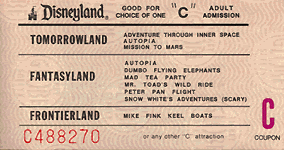 Alice in Wonderland was a psychedelic freak show that presaged the Summer of Love.

The Jungle River Cruise is a classic, most notably for the corny schtick that the pilots always deliver, which I can attest has not changed substantially over 40 years.

Teenagers especially frequented Monsanto's Adventures Thru Inner Space that simulated miniaturization. After boarding an atomobile, we would ride to the wrong end of a microscope against the backdrop of an intergalactic light show.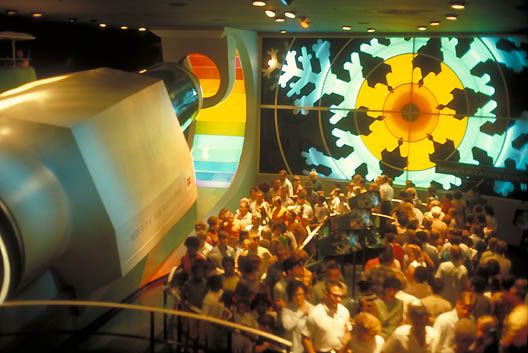 But my favorite was the Matterhorn, the closest thing to a Disneyland roller coaster until Space Mountain debuted in 1977. Compared to the screamers you can find at Knott's Berry Farm or Magic Mountain, the ride is pretty mild but still plenty wild for a wimp like me. The Matterhorn is one of the few California rides that was not replicated at Walt Disney World, which I never understood. If the Disney planners thought that an Alpine attraction would seem incongruous in Florida, obviously they changed their minds when they added the Blizzard Beach water park.
The long lines on either side of the Matterhorn were the absolute best spot to flirt with boys. Plus, you could hear the live music emanating from the Coca Cola Terrace – not the socially conscious rock of the era, but the Up with People/Mike Curb Congregation variety.

Speaking of music, my high school pal P had an uncle in the industry who somehow got us free admission into Disneyland whenever we wanted. P developed a crush on Rod Miller, the ragtime pianist who still plays at the Coca Cola Corner on Main Street, and we became regular, Coke-swilling nuisances. Nothing ever came of her rapt adoration and this sedentary phase began to kill my romance with the Magic Kingdom.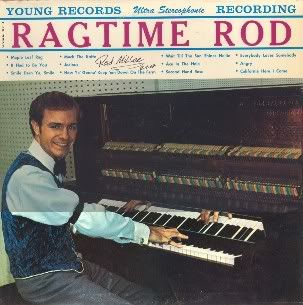 When did love die? Later in high school my dear friend J and I meticulously plotted a one-day visit that would encompass all the park's rides. We started quite early and were completely bored by mid-morning. We abandoned our ambitious agenda and instead noshed at nearly every restaurant and food stand. My favorite was the Carnation Ice Cream Parlor, one of the few with table service, and the only one with the Black and White Sundae: one scoop of coffee ice cream with hot fudge, one scoop of chocolate with marshmallow sauce, whipped cream, nuts and a cherry.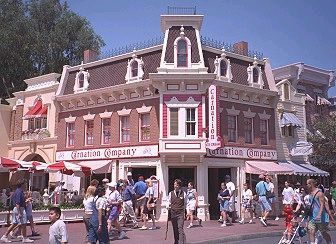 Disneyland had become too familiar, too passé, and too creatively stagnant during the Walt-less 1970s, while the corporate focus obviously was on Walt Disney World. Meanwhile Knott's Berry Farm underwent an expansive renovation and became our new favorite until my circle o' friends graduated from high school and scattered.
College and working to pay for college shifted my priorities. My sister's boys B and C were finally old enough to enjoy the regional amusement parks: Disneyland, Knott's Berry Farm, Magic Mountain, Sea World, the San Diego Zoo, and the now defunct Lion Country Safari and Marineland. I was developing new maternal feelings and my nephews' wide-eyed pleasure in every adventure was magical for me. The four of us spent the summer of 1977 driving around the country through 29 states and the District of Columbia. Our road trip included a stay with relatives in Clearwater, Florida, and a day at Walt Disney World where we were introduced to Space Mountain, which opened in California later that summer. B, the older nephew, was so excited that he wet his pants and my lap on the ride.
In June 1969, when my sister Donna was quite visibly pregnant with B, we had made a family visit to Disneyland with our brothers, of whom one was home on leave from the Navy to get married. Pregnant women were discouraged from going on the rougher rides. After a long wait for the Autopia, finally we reached the turnstile at the end of the line. The young attendant stopped my sister and asked, "Ma'am, are you pregnant?"
"I hope not!" Donna replied with a convincing look of shock. "My husband's been in Vietnam for a year." She boarded her car unimpeded.
Some people assume that southern Californians run into celebrities all the time – and occasionally we do, especially in the pursuit of recreation. I remember once we were standing in another winding line for one of the more juvenile rides in Fantasyland behind actor Ned Beatty and what appeared to be his family. My nephews recognized him as Lex Luthor's bumbling henchman in the movie
Superman
(the Christopher Reeve version) and shouted, "Stupid Otis!" Some people began to hum the famous dueling banjoes theme from the infamous
Deliverance
, in which his role was most definitely not family-friendly. One obnoxious man, surrounded by children himself, kept repeating, "You shore got a purty mouth." Poor Mr. Beatty looked unamused.
My son Chris was born in 1983 and I first took him to Disneyland during the Christmas season when he was two. After my marriage to his father ended the year before, we moved into my parents' house just steps from the corner with an unobstructed view of the summer fireworks display. Another great vantage point was the McDonald's across the street from the entrance where you can savor the full flavor of the explosions and musical accompaniment along with your Happy Meal. Perhaps it is just my sappy, sentimental streak, but Disneyland always seemed extra-magical at night or dressed up for the holidays.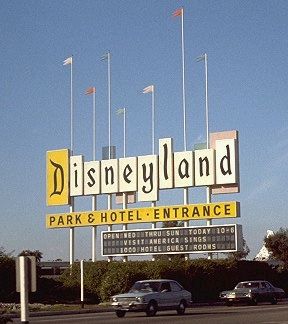 New attractions had been added and I was looking at the old familiar places with fresh eyes. I could see all the fine detail and extreme care in Walt Disney's handiwork. He understood the importance of staging an authentic scene and I believe his exhaustive production values set Disneyland above most amusement parks where the payoff is a short-lived thrill. I especially appreciated that Disneyland has always been clean, safe family fun. The Magic Kingdom has never had crowd control problems or gang-related disruptions like the others. By clean, I mean sparkling.
When Chris was nine, I started buying annual passes via my employee discount and usually just the two of us went. At first Toontown was the perfect-sized playground but he quickly outgrew it. Roger Rabbit's CarToon Spin is like the Mad Tea Party in that you can control the spinning motion but, despite the funhouse effects, it is not anywhere near as nauseating.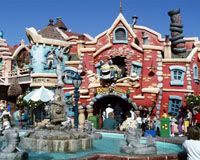 The Indiana Jones Adventure is a marvel of high-tech engineering and traditional Disney Imagineering. Three slightly different tracks route you past creepy crawlies and dangerous predicaments to a thrilling conclusion.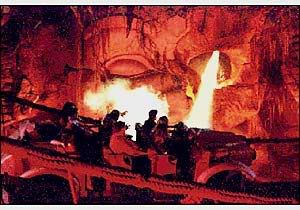 Sometimes simplicity is best. We adored Tom Sawyer's Island, where we could run and hide, climb rocks, explore the caves, cross the tricky suspension and pontoon bridges, and play cowboy-and-Indian in the fort.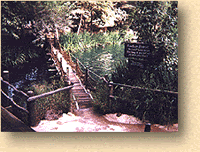 Food remained an integral part of the entertainment. For a quick meal, we preferred the popcorn shrimp at the Harbour Galley across from Tom Sawyer's Island, which has since become a McDonald's stand. Alas, more proof that Charles Darwin and Michael Eisner were wrong.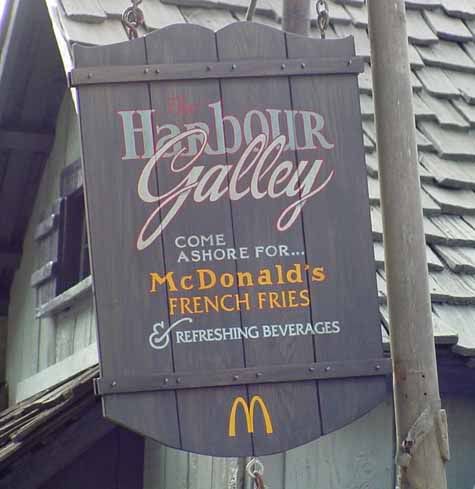 By his 14th birthday, Chris came to prefer water parks with a good friend to Mickey Mouse with his mom. During those years, we did visit Florida a few times and really enjoyed Walt Disney World, specifically EPCOT and Typhoon Lagoon. At Disneyland Resort in California, the hours of operation are longer and the Magic Kingdom here has more rides and attractions.
We were heartened to hear of plans to add an EPCOT type park to the Disneyland Resort. Instead of WESTCOT, the Eisner brain trust selected Disney's California Adventure, featuring prefabricated rides depicting the history and geography of California. By every standard of creative and financial success, DCA is a flop.
The reason Walt Disney bought up so much property in Florida was that he coveted some desirable farmland located half a block from Disneyland. Mr. Fujishige, the owner of the farm, always flatly refused to consider selling, but his family sold it to Disney in a heartbeat after he passed away several years ago. Reportedly Michael Eisner had plans to open a water park and/or Winnie the Pooh theme park there that were mothballed after the post-9/11 plunge in tourism.
FastPass, a 21st century innovation, is a true timesaver on high-traffic rides in the Magic Kingdom. First you check in to receive your hour-long appointment. Then you return during that hour to a short line that leads swiftly to your ride.
My brother Richard lives with us and is deaf. Disneyland hosts an annual day to honor the deaf community and this year was the first time that we attended since Luis and I married. Chris is now 21 and the cycle has begun anew – although, please God, no grandchildren until he is ready. We all rediscovered the magic together and likely will get annual passes again soon.
Whether you come for a once-in-a-lifetime memory or become a regular Disneymaniac, you owe to your inner child and your family the original Walt Disney theme park experience. You better start saving your money, though. Feel free to contact me for additional recommendations.